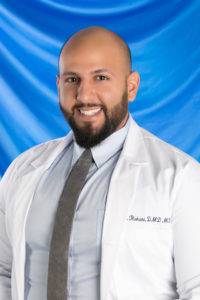 Dr. Hoss Rohani graduated with a BS in developmental and cellular biology and a minor in biochemistry from California State University.  He received both his master's and his DMD from the Western University of Health Science located in Southern California. His master's in medical science was received from the college of Biomedical Science and his DMD was received from the College of Dental Medicine.
Under the guidance and mentorship of Maestro Dr. Simon Hong, Dr. Hoss learned a holistic approach to treating the whole patient and observing the whole picture of a patient's well-being.  He truly cares about the preventative aspects of dentistry and his focus is on educating and maintaining good oral health. Following a conservative approach, he likes to work with patients to help them achieve their dental goals.  Whether it is to get a patient out of pain or to make up their ideal smile, Dr. Hoss gets gratification from listening to patients' concerns and satisfying their dental needs.
Growing up in Los Angeles, California he is accustomed to concrete drives and very little weather change.  He is excited with all the greenery and water he sees on his drive to work. He loves being outside and cannot wait to try snow tubing this winter.  He also enjoys watching European soccer and professional ping pong.
Contact Us
For more information, or to schedule a consultation, please contact us today.